October 13, 2014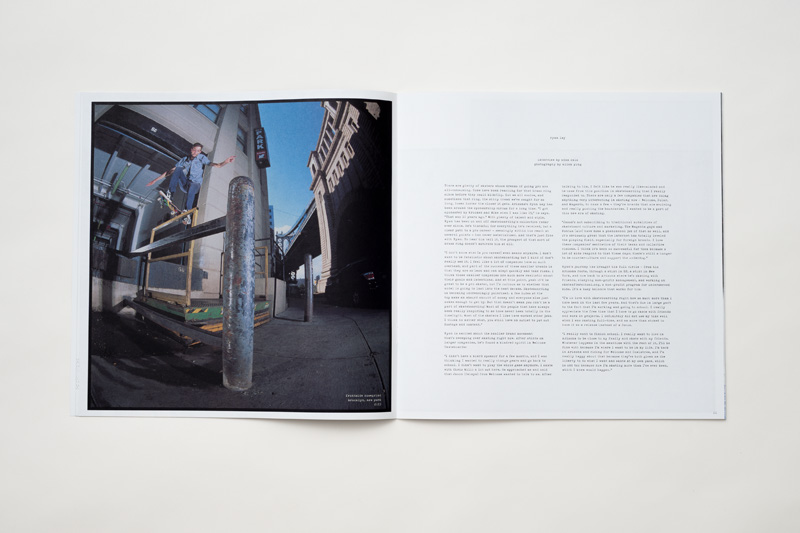 opening spread for the ryan lay interview
frontside nosegrind – brooklyn, new york – 2013
photography by allen ying
interview by adam salo
 "I don't know what [a pro career] even means anymore. I don't want to be fatalistic about skateboarding but I kind of don't really see it. I feel like a lot of companies have so much overhead, and part of the success of these smaller brands is that they are so lean and can adapt quickly and take risks. I think those smaller companies are much more realistic about their goals and intentions."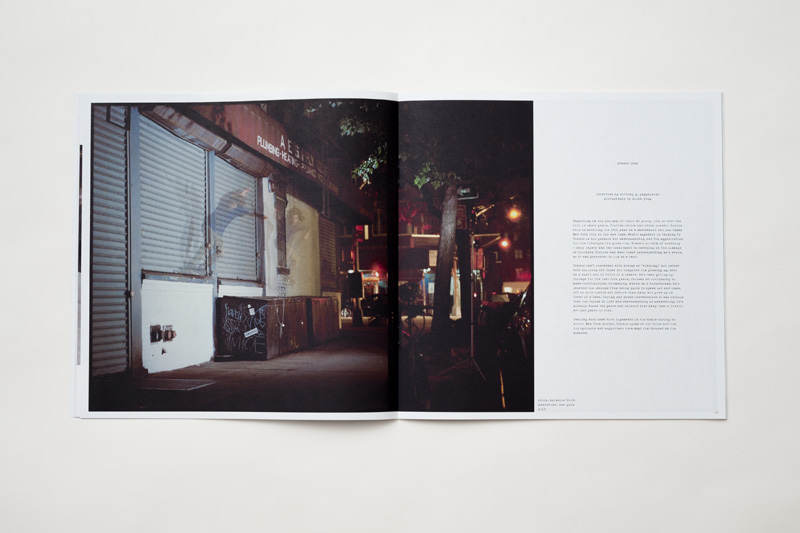 opening spread for the yonnie cruz interview
ollie, backside 50-50 – manhattan, new york – 2013
photography by allen ying
interview by anthony g. pappalardo
What's apparent in talking to Yonnie is his passion for skateboarding and the appreciation for the lifestyle it's given him. There's no talk of currency – only legacy and the commitment to carrying on the lineage of Southern Florida and East Coast skateboarding as a whole, as it was presented to him as a teen.
"It's an adrenaline rush finding something awesome and having to do tricks before you get kicked out. It all comes with the feeling that your own skateboard gives you. I like looking where no one wants to and trying to go down every dead end."
 opening spread for the danilo parra interview
portrait by bryan derballa
interview by allen ying
"The señora really eyed me up and down as I acted like an awkward mute; I moved my hands up and down like I was air juggling. I was ushered to the roof where I sat in a trashed up room by myself for an hour awaiting the street girls. When they finally showed up they started smoking rubber cement mixed with crack, reenacting their seductive robbery techniques, and having a dance party. I filmed it all on a flipcam, then snuck out to find the rest of the film crew just chilling comfortably at a nearby restaurant. It's a tough life being a street juggler."
danilo parra is an artist interviewed in this issue. this is his 2014 demo reel. please check danilop.com and vimeo.com/danilop for some full pieces and trailers.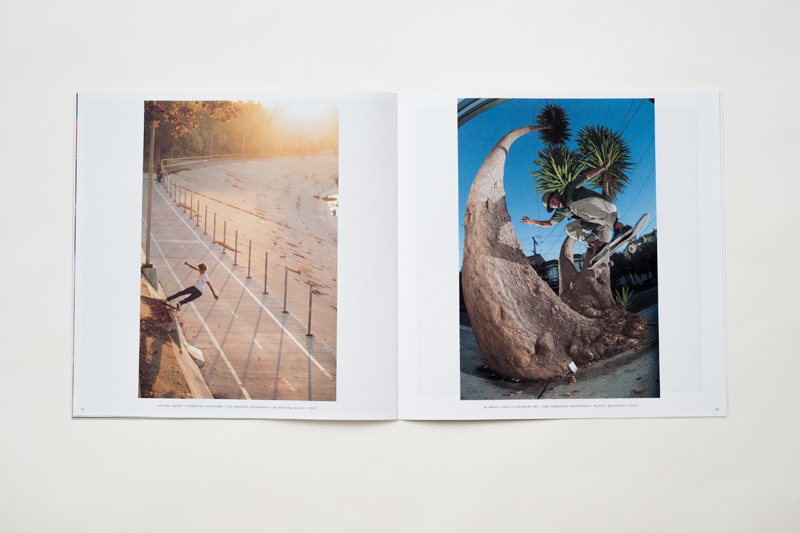 left: curren caples – frontside hurricane – los angeles, california – by anthony acosta – 2013
right: al davis – wallie backside 180 – san francisco, california – by eric palozzolo – 2013
issue 004 main info
order direct