August 31, 2015
by anthony g. pappalardo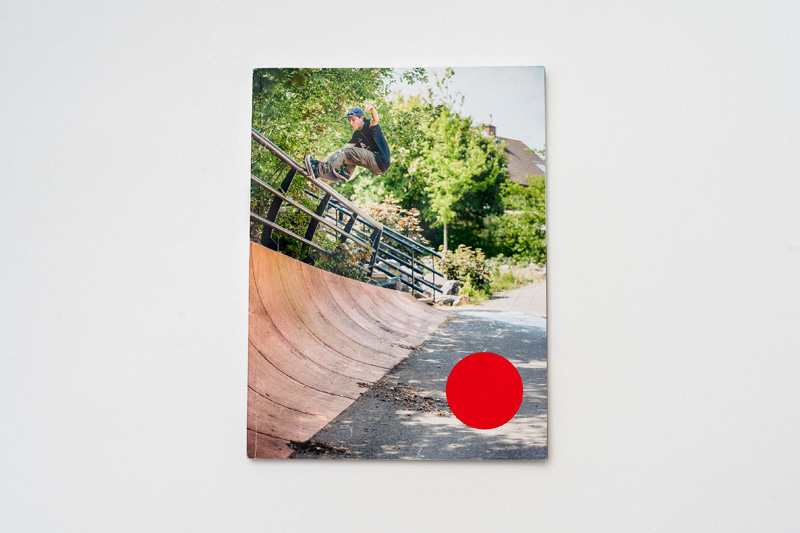 This past March, Factory Media in Europe dropped a press release, mentioning that they'd be deading all of their publications in order to focus solely on online media. In one electronic mail, British titles Kingpin and Sidewalk, along with Germany's Monster Skateboard Magazine, were a wrap.
This was one of the greatest single examples of magazine publishers not recognizing the value and heritage of skateboard magazines. Unlike dance or music, which evolved before recordings, skateboarding and its media have always evolved together. With more skateboard magazines opting to post aggregate content, accompanied by three-sentence quips, skateboarding is becoming more brand controlled. Prose is being pared down with less regard for storytelling. Interviews with pro skaters now have to pass through managers and brands before being published, often going for clichés over opinions.
As skaters raised on magazines and full-length videos, Kingpin's editor-in-chief Will Harmon and photo editor Sam Ashley appreciate the relationship between skateboarding and media. So when Factory shut down print, they decided without hesitation to do their own thing. In July they released the first issue of Free, a new, independent, pan-European skateboard magazine.
For those who aren't familiar, can you both give us a little backstory on your involvement in skate media prior to Free?
Will: Well, I used to do freelance writing stuff for Grey and Sidewalk. Then in the summer of 2013 I was asked by Factory Media to be editor-in-chief of Kingpin. That worked out for a while – I learned a lot and I felt very lucky to have that role. But then a few months ago Factory decided to cut the mag. I knew then it was time to leave and start something new.
Sam: I started freelancing for Sidewalk in 1998, and then went on to be a staff photographer at Document around 1999 or 2000. In 2006, Document's publisher was acquired by Factory Media—something I definitely wasn't stoked about, as they already owned Kingpin, and had also recently bought Sidewalk. It doesn't take a genius to work out that a business focussed magazine publisher doesn't really need three skateboard titles. Sure enough, within a couple of years they canned Document, and I was moved over to work on Sidewalk and Kingpin. Eventually I ended up as photo editor of Kingpin.
How did things go down and how did you transition from working on Kingpin to independently founding Free?
Will: Things first got weird at Kingpin last year when they cut us down from 12 issues a year to six. We basically had no say in this, but the good thing that came out of it was that Kingpin was moving out of the newsstands and only into skate shops, and to top it off it would be a free magazine – no more cover price. That was actually great and skaters from everywhere seemed pretty psyched to get a free magazine. The bad thing was at that same time Factory Media decided to stop doing print with MSM (Monster Skateboard Magazine).
These guys were our friends and the magazine had such a long history; MSM had been around for more than 30 years! When this happened of course we were worried – I mean if they can instantly stop a magazine that's been around for 30 years, what does that say about Kingpin, which has been around a little less than half of that? A few months later our boss announced to the whole company that Factory Media was moving to an all digital strategy. They had like 17 or so titles and they cut all of them. It was quite a shock. After that announcement Sam, Arthur Derrien, and myself went to a nearby pub and started planning on how we could start a new magazine.
Sam: It was actually pretty funny how it all went down. We were still working on the last issue of Kingpin, and I was in the office frantically working away trying to do retouching on someone's photos. In the middle of this I get asked to go into another room, along with someone from Sidewalk and another Factory employee I had never even met before. Straight away I knew what was about to go down, and they went right into it: "We're exiting print entirely, and as a result of this we no longer require your services."
I remember being pretty amused by this; a company is trying to pull off the 'digital' thing, where we all know that content is king, and their 'solution' is to get rid of the photographer/photo editor? Anyway, as soon as I left the room, I walked over to Will and Arthur and said, "Let's have a meeting", and we immediately began devising our new magazine.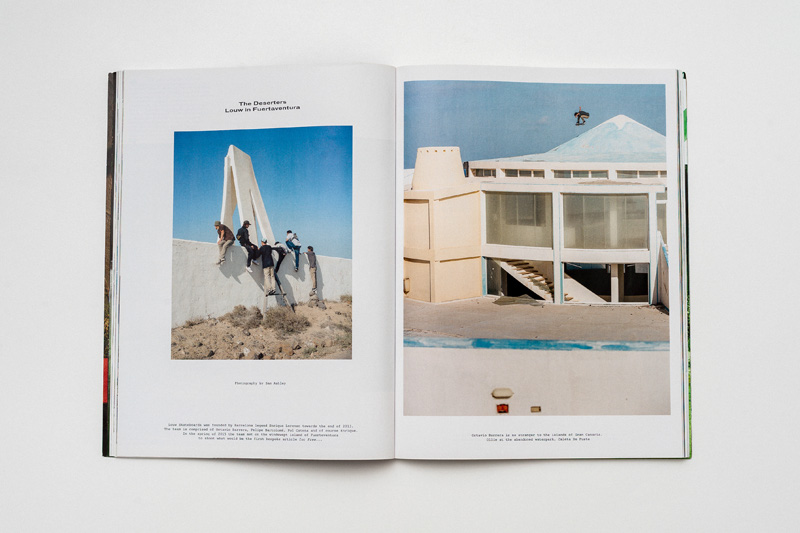 Was Factory's plan to just take all of the skate photos, tour articles, interviews, and stories that people slave over, and throw it on the web? Had they heard of Slap magazine's failed attempt at that?
Sam: As far as Kingpin is concerned there wasn't even an offer for us to do an 'online magazine', from what I was told they wanted to focus on both producing and re-posting video content, something none of us really wanted to stick around for.
Will: Basically, we warned our bosses at Factory about what happened to Slap and Skateboarder when they went all digital, but their mind was made up… It just didn't matter whatever we said. Factory was going all digital and we had no real say in the matter.
Were the contributing photographers and writers on staff down for online only?
Sam: By the time this happened all the photographers had been let go in one way or another, so there wasn't really a choice to make.
Will: So, the only two people left on Kingpin were Arthur Derrien and myself. Sam Ashley, Sem Rubio, Nikwen [Nicholas Huynh], and Jesse Moine were let go. Arthur and I decided to quit.
So it seemed like an obvious move for you guys, as well as the MSM crew in Germany, to start your own thing. Why do you think the staff of Slap or Skateboarder didn't break off and do the same when their publications were canned?
Sam: I can't speak for those guys, but for us it was an easy decision: We felt Factory canning Kingpin, Monster, and Sidewalk left a huge void. Maybe the market in the U.S. was a bit more crowded at that point.
Will: Yeah, we immediately knew what we had to do. We just thought it was the right thing for European skateboarding to have a proper pan-European magazine.
Kingpin had a decent ad-page-to-editorial-page ratio. Do you think you can keep Free free without letting the ad page ratio get out of hand?
Will: So far so good with the ad page ratio. I think so many kids view all their skateboarding for free on the internet or on their phone. The only way we can compete with producing a mag is to make the magazine free and back it up with a good online presence and social media.
Sam: I really want the ad page ratio to get out of hand – we're trying to buy boats here!
What's changing with the new mag?
Will: The new mag isn't Kingpin. Yes, it's pan-European, it has the same number of pages as Kingpin did and you'll see some of the same skaters and contributors, but it's Free. I think when people see it they'll realise how different it looks.
Sam: The format is ever so slightly smaller than Kingpin, but like Will says, it's still 132 pages. I had a hunch that Factory actually had the page count and ad-to-content ratio kind of figured out, and that turned out to be correct, I think. The printing and the paper are actually way better than anything we used at Kingpin… The printing is something that's very important to me; if you're going to go to all the trouble of making a magazine, that aspect of it has to be really on point. What's really changing with Free is the whole ethos of the magazine. Free isn't just a reference to the cover price, but how we put the whole thing together: we scrapped regular features entirely; we also didn't want to be constrained by article length either. We wanted the whole thing to feel much more loose and less predictable, because that's how we all feel about skateboarding itself.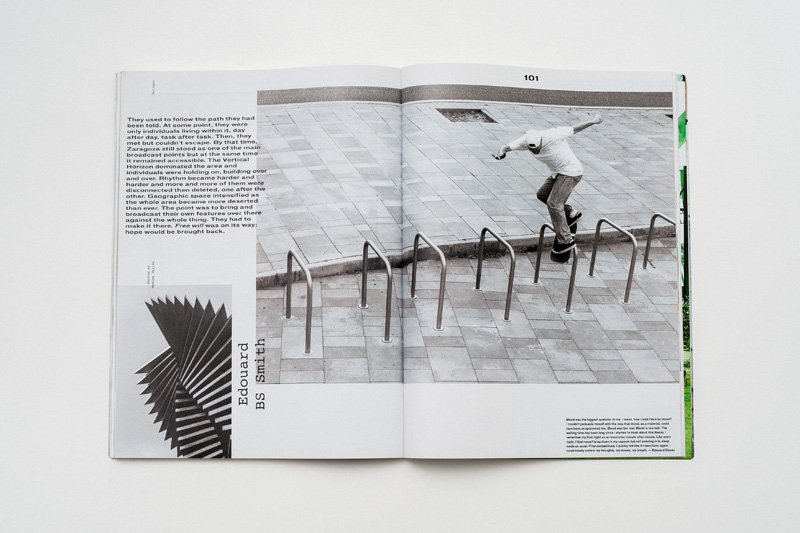 What's the upside and downside to being a skater-owned, indie publication and is that freedom changing how you approach it
Will: The upside is we don't have to deal with corporate bullshit! We only have to answer to ourselves. The downside is that we have a lot to learn about running a business. It takes up a lot of time sorting ads, making invoices and answering hundreds of emails when it would be better to just focus on editorial. Sometimes it's very overwhelming. We've just hired an accountant though, so it's a start. We learn more each day that goes by and also ways to make things run more smoothly.
Are you able to pay yourselves as well as when you were employed by a large magazine publisher?
Sam: Honestly we don't really know the answer to that yet… Even if we did I'm not sure I'd really want to put it out there. Our motivations for doing this are not about financial gain, and I wouldn't want people to draw that conclusion from our answer.
Will Free have the same distribution as Kingpin? How about U.S. distribution?
Sam: The distribution will be similar to Kingpin: 20,000 copies delivered to all the best skate shops in Europe. As far as U.S. distribution, we're giving Theories the exclusive on it for now, but it's not huge numbers.
Will: Yeah, we worked a lot of hours trying to figure out the best skate shops in Europe. We talked to skate photographers, pros, and skaters from all areas of Europe to try and get the most comprehensive list.
Will you post full issues or articles from the magazine online?
Sam: At some point I'd like to get it all online, but probably not until people can't really get the mag anymore… I'd like as many people as possible to see the stuff we make, but I'd still like people to see it in the context of the magazine first, if possible.
Will: I think it's best to drip feed content from the mag onto online. A whole mag online is a bit overwhelming and I feel like people give it less attention when it's all there at once. But this is just my personal opinion… There might be a need to put the whole mag online at some point though… We'll see.
What do you have to say to people who think print is dead?
Sam: It is a cliché, but so is #printsnotdead, which annoys me almost as much. Print isn't dead, but shitty print is dead. But by the same logic, just because you're printing a magazine doesn't mean it's actually any good. People should be focussing on the quality of the work, not whether print is dead or not.
With The Skateboard Mag cutting down on copy and becoming more of a visual mag, what's your take on the written component of skate journalism?
Sam: People love to say "kids don't actually read magazines", but I really believe they're wrong… I think kids love to read stuff, but it just has to be good. I'm not too sure that what TSM are doing is a good idea really, when they rebranded it was a pretty swift u-turn from what they were producing before – the 'non-hammer' covers, etc.  I get what they're trying to do, but it feels like they're labouring the point a little. There are still great photos in there though, and some of the guys working there are some of my all-time favourites.
Will: People have told me how happy they are that there was so much to read in our first issue. I feel like with online you have a much shorter attention span when it comes to reading, but with print you spend more time on it and soak in articles a bit more – well at least that's how I feel.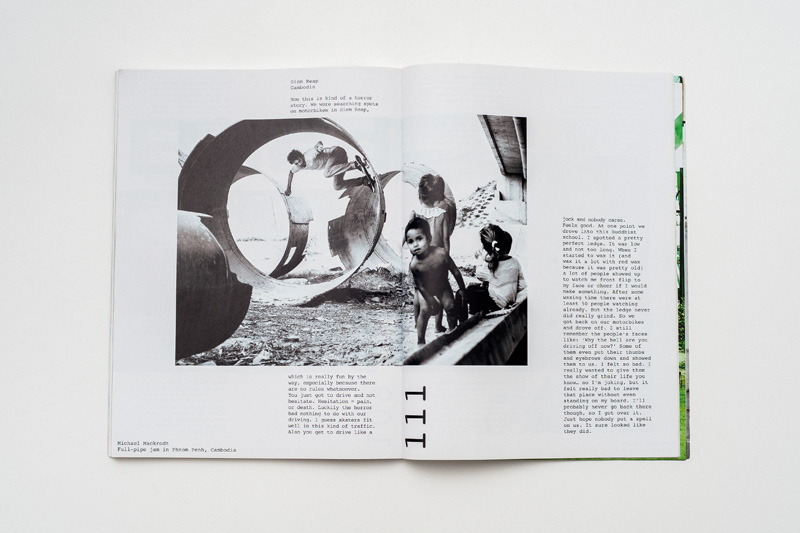 When skateboard media was solely in print, the value of that content weighed more, especially in places outside of California and the U.S. With so much available now, what's the role of the magazine?
Sam: I think magazines fulfill several roles:
Firstly, they can act as a filter. Everyone complains that skate media on the internet is pretty overwhelming; you can't possibly keep up with all the photos, videos, and articles that get released, and there's no way even half of them are worth your time. What my personal role entails is looking at the thousands of photographs we get sent each month and using my experience to subjectively judge which are the 'best' and then put them into print… What I'm trying to say is magazine's sift through the crap so you don't have to.
Secondly, magazines offer permanence… it's no secret that a photo on Instagram may as well not even exist after 24h. Even the best online video parts are pretty much forgotten after a week – it's really sad but it's true. If you're a skateboarder, a photographer or a brand, why wouldn't you want your work/project in print first? It then becomes a tactile object that potentially hangs around forever, and the same content can always be put online further down the line anyway.
Thirdly, you know all those epic scenery skate photos where the skater is small in the frame? Well some of those are my favorite skate photos ever, and they don't work on Instagram. No matter how good the resolution of phone screens get, you're still looking at an image that's a couple of inches wide – this isn't really going to change. Magazines give you way more possibilities with the scale of the photos… Nothing on Instagram hits me like an epic photo printed full bleed across a double-page spread.
Will: I agree with Sam. Anyone can put anything on the internet – it's just too much crap and also it's overwhelming. It's nice to have a magazine as a filter. Also it's nice for the skaters too, so if they get a photo in the mag they can show their grandparents. I think skateboarders feel much more proud to have their photo in print. "Look grandma, here's a photo of me skating on my phone." So what! Print means something and it has longevity. You can always go back to that magazine on your bookshelf and find that old photo that you remembered for reference. Try googling to find a photo you saw online five years ago… Forget about it. It gets lost. Magazines are a part of skateboarding history so we think it's important to have them around.
–
free is available in the U.S. via theories of atlantis.