March 15, 2014
please read some recent interviews and press from winter 2014
–
huck magazine (england) – issue 42, dec 2013 – jan 2014
an article on recent new york city based skateboard videos, interviewing colin read, josh stewart, and allen ying, with photos of jahmal williams, connor kammerer, colin read, koki loaiza, rob gonyon, al davis, piro sierra, josh stewart, and dustin eggeling.
(click images to read)
–
lodown magazine (germany) – issue 89, dec/jan/feb 2014
interview/review, with photos of connor kammerer, eli reed, and eby ghafarian.
(click images to read)
–
 surf, skate & snow – contre-culture
independently published book from france,
with photos of anthony schultz and dave caddo.
(click images to view larger)
–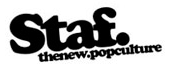 staf magazine (spain)
online interview with various preview images of the 1st 3 issues of 43.