November 6, 2011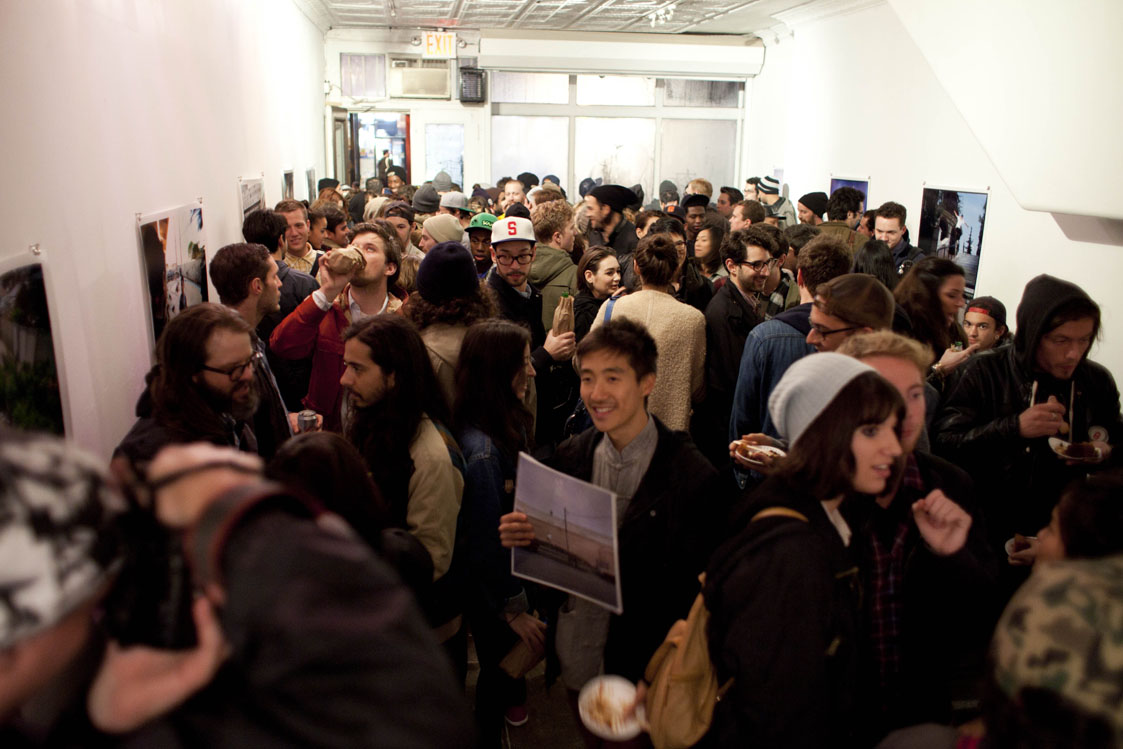 43 magazine launched on thursday, october 27, 2011, with a catered, open bar, photography show reception at recess, in soho, manhattan, new york.
thanks 5boro, vans, wesc, brooklyn brewery, and grow nyc greenmarket farmers markets for the generous support.
thanks everyone who donated to kick start the magazine, as well as paid as you wished for the 1st 300 copies.
we hope everyone enjoyed the crowd, magazines, photography, food, and beer.
the magazines will be hitting skateboard shops across the US later this week.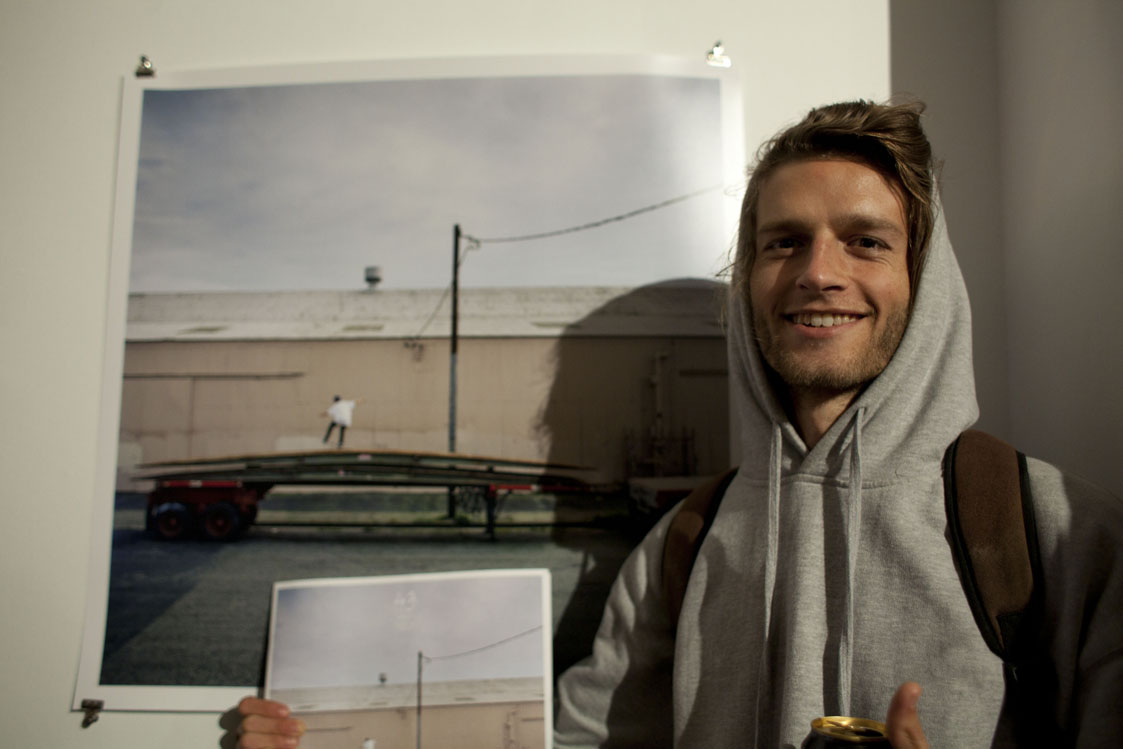 jimmy lannon flew in from florida the night before, unaware he had cover
the show featured 7 24″x36″ and 5 30″x30″ photographs by eric antoine,
brendan klein, brian gaberman, hendrik herzmann, ian o'connor, andrew peters,
marcel veldman, and allen ying.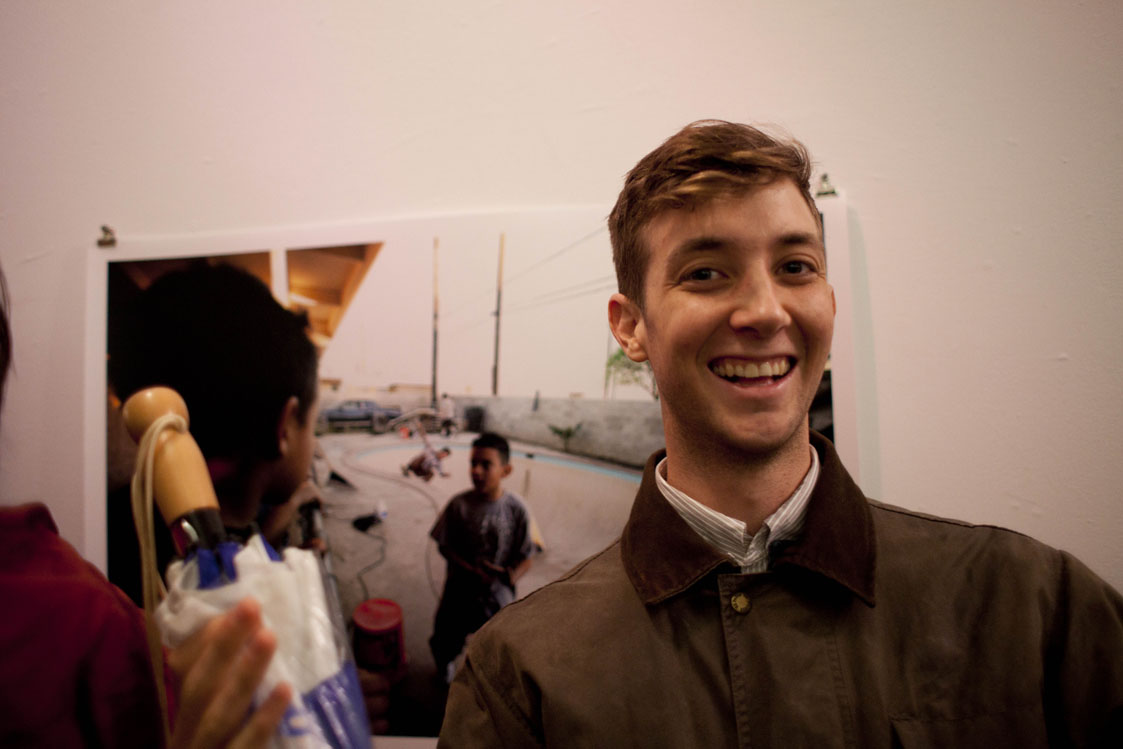 ryan lay in front of a photo shot by brendan klein, of tyler mumma
the premiere issue of 43 features a photo series by brendan klein, a feature on brian delatorre, and also features photographs of skateboarders mike anderson, steve bailey, nate broussard, dave caddo, emmanuel guzman, al partanen,
tom remillard, anthony schultz, raven tershy, and wieger van wageningen.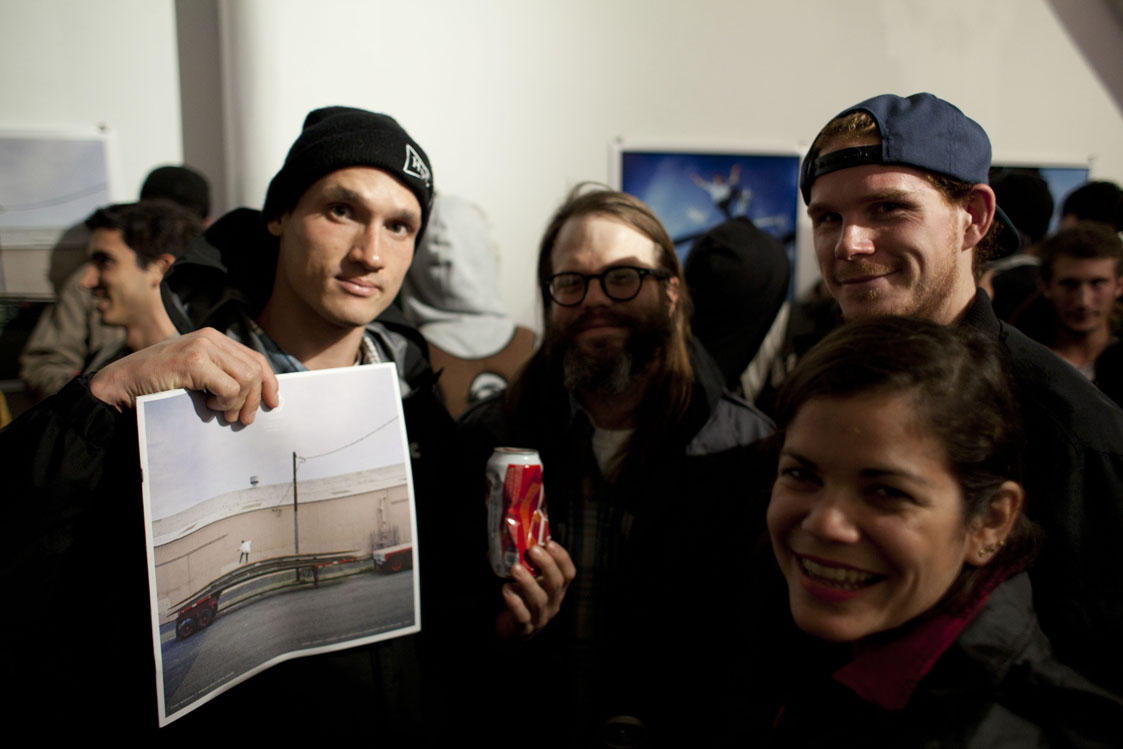 joey pepper, rob nordstrom, curtis rapp, and mary lou
it was great to see so many friendly faces, including quim cardona, jeremy elkin, frankie galland, amy gunther, ryan lay, jimmy mcdonald, sam partaix, joey pepper, vinny ponte, yaje popson, curtis rapp, eli reed, steve rodriguez, billy rohan, jack sabback, josh stewart, shelly zander, and a couple hundred more.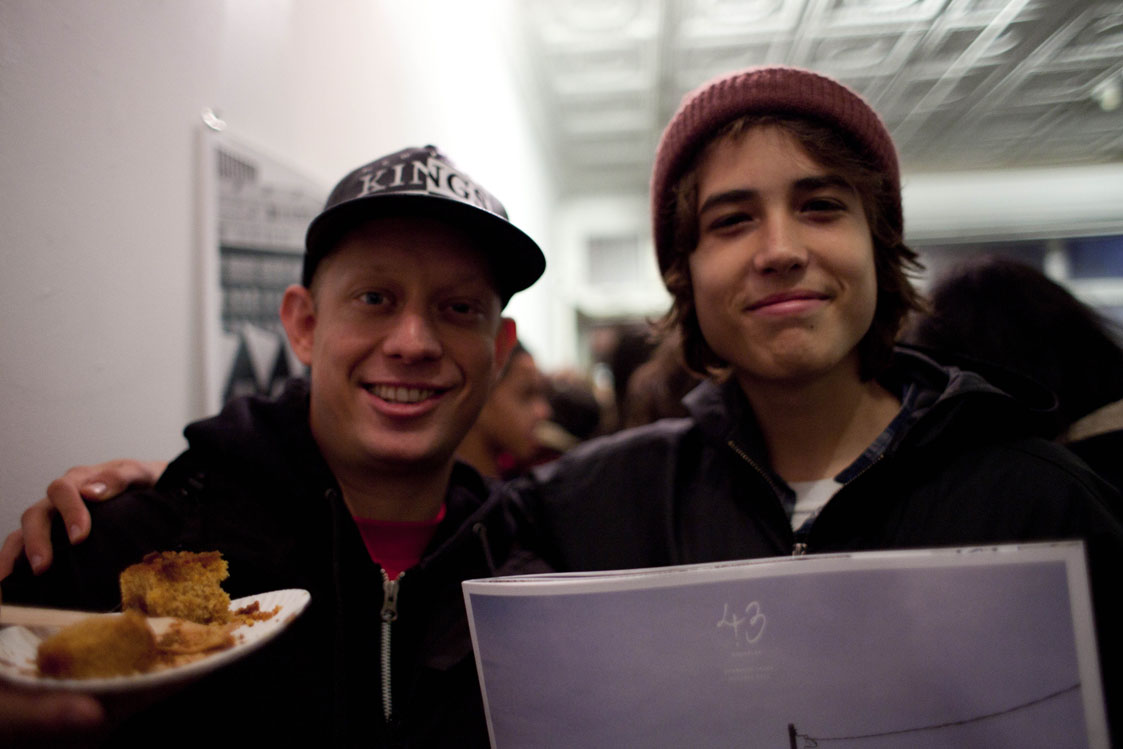 corn bread, billy rohan, and yaje popson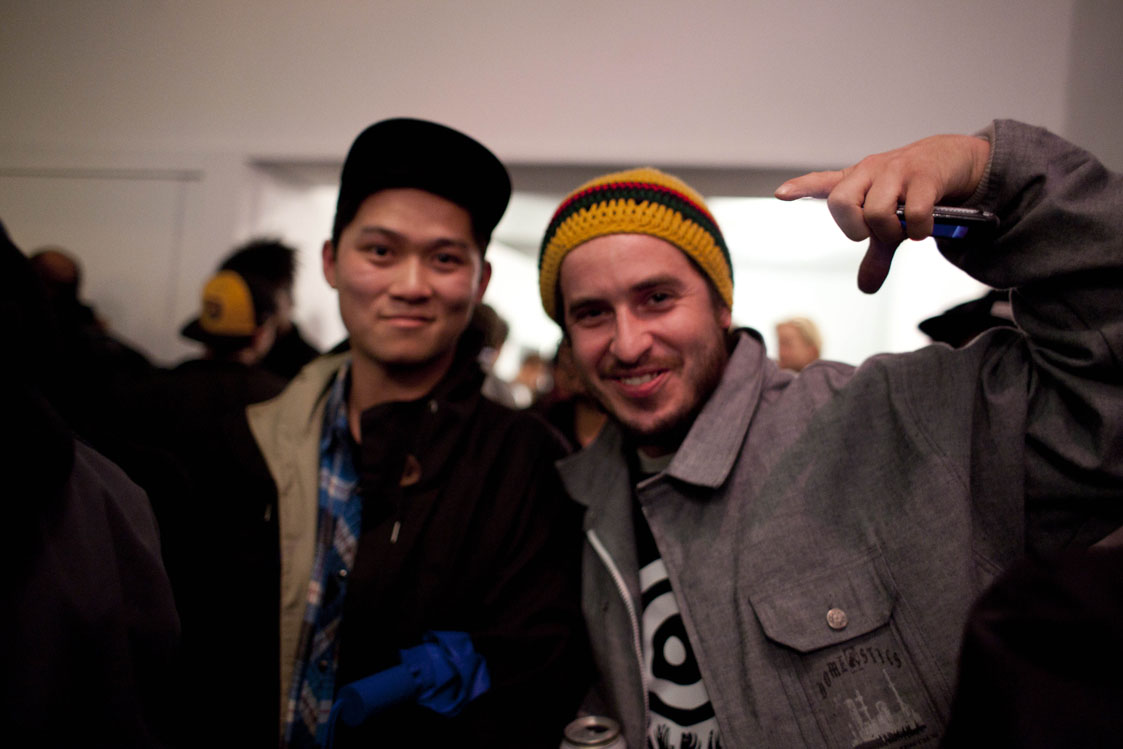 filmer sean nguyen and quim cardona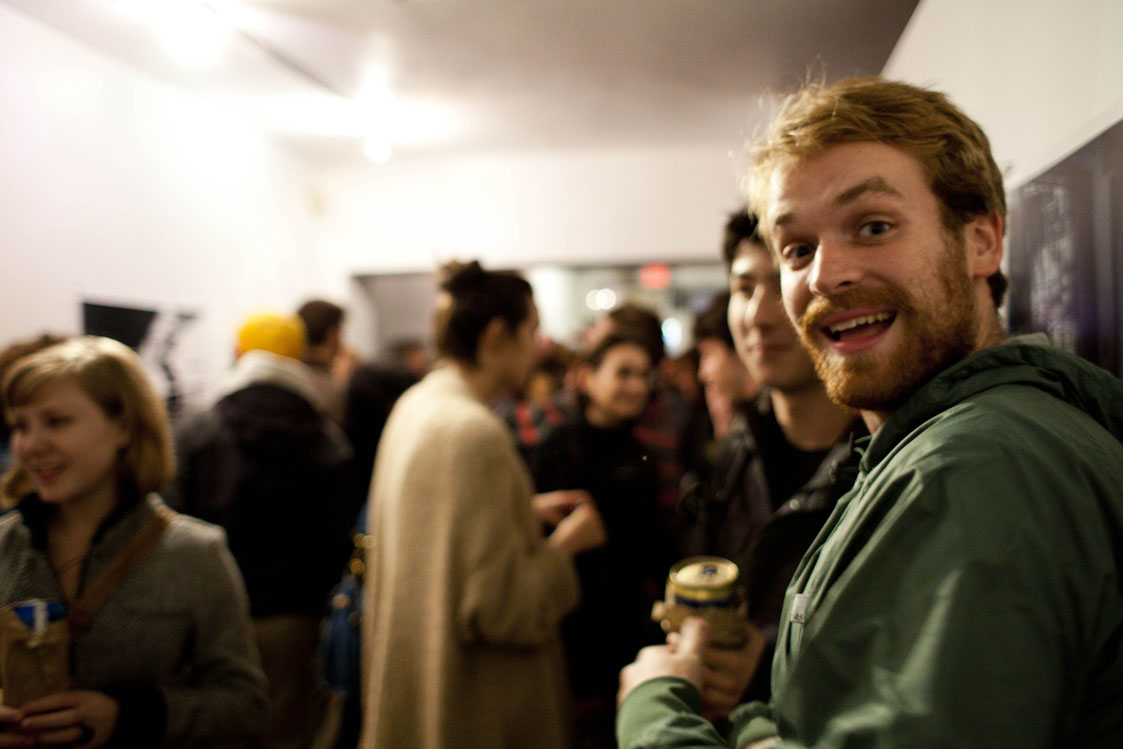 jimmy mcdonald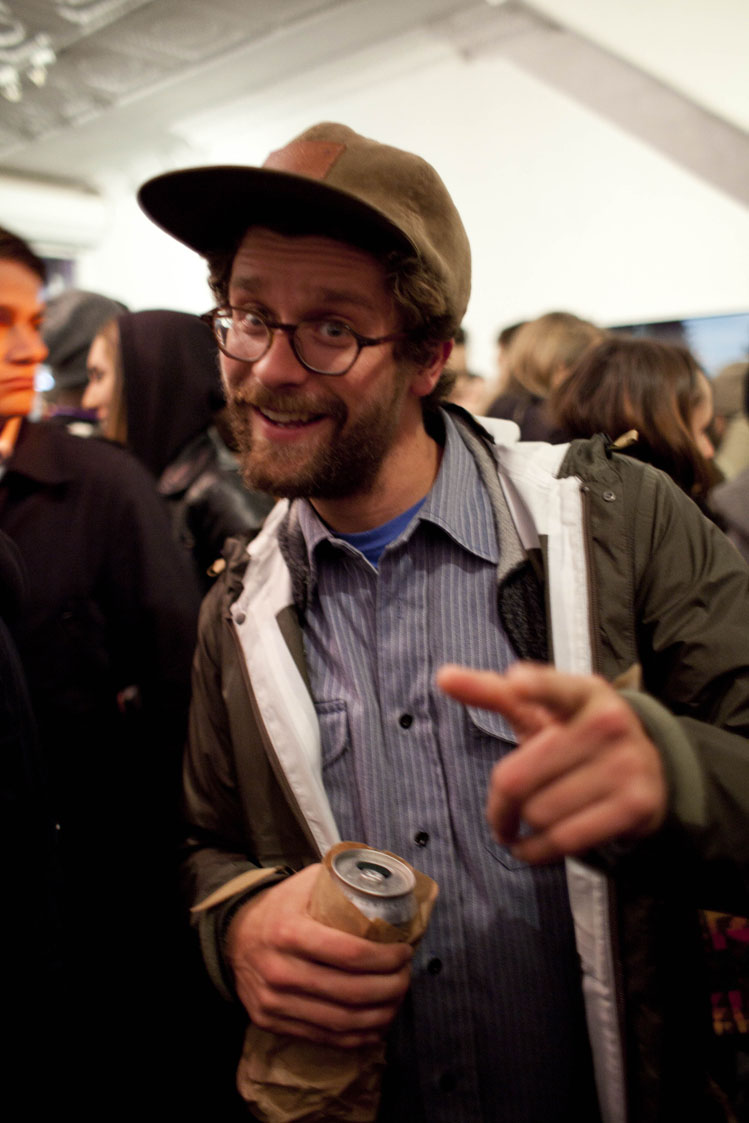 jack sabback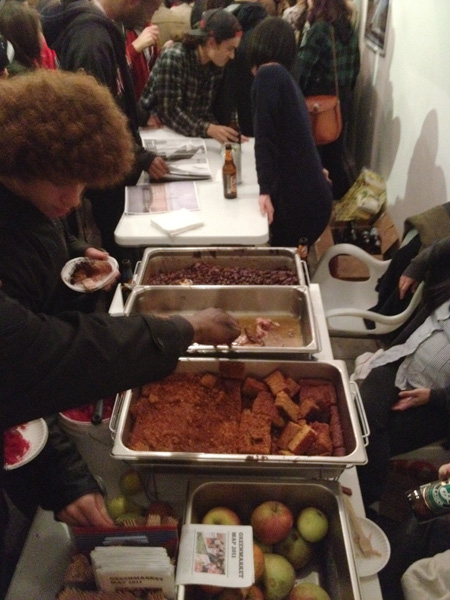 cooked food was prepared by the meat hook,
with organic ingredients grown upstate new york.
corn bread made with cayuga pure organics,
and local organic eggs & dairy.
raw ruby sauerkraut was from
hawthorne valley farm
in ghent, new york.

organic, lacto-fermented,
probiotic rich to aid digestion.

fruit provided by grow nyc
greenmarket farmers markets.


heirloom apple varieties:
baldwin, stayman winesap,
northern spy.

pear varieties:
seckle, bosc, devoe,
clapp favorite, bartlett
| | |
| --- | --- |
| | |
| birchwood forks | sugarcane fuel smells like rum |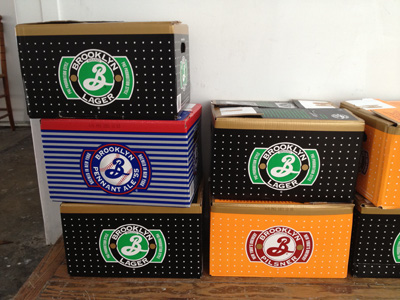 locally brewed beer provided lovingly by brooklyn brewery.
varieties: brooklyn lager, brooklyn penant ales '55, brooklyn pilsner.
this event was possible with the assistance of
contributing editors chris barton, tim schutsky, and zander taketomo; and
volunteers christina cheung, calvin nonato, brayden olson, kristine valmonte, and trina vo.
with generous support from 5boro, vans, and wesc.
event photos courtesy of josh stewart, theories of atlantis.
see his event coverage, and other press, in press – fall 2011 post.